On July 30, President Donald Trump publicly welcomed the idea of Brazilian President Jair Bolsonaro's son becoming an ambassador to the United States, describing the 35-year-old as "outstanding."
Jair Bolsonaro put his son, Eduardo Bolsonaro, forward for the role of ambassador to the United States on July 11, the day after he turned 35 – the minimum required age for an ambassador in Brazil. Despite support from his father and President Trump, he will not be able to take the post until it is approved by the Brazilian Senate.
The idea has raised concerns not only of nepotism, but also of his qualification for the post, an anonymous source from Brazil's foreign ministry told The Guardian.
Eduardo Bolsonaro is a deputy in Brazil's lower house, chairman of the foreign relations committee in Congress and has an unofficial role as foreign relations adviser to his father. He has no formal training in diplomatic relations and is not a minister, which are common prerequisites for an ambassador.
According to article 41 of Brazilian foreign affairs law however, in exceptional cases an individual can become ambassador if they are over 35 years old, of recognized merit and have rendered relevant services to the country.
Eduardo Bolsonaro told Globo G1 that he felt his credentials gave him a "certain qualification," to which his father — the president — speaking to Folha da São Paolo, agreed.
"He's friends with Donald Trump's children, speaks English and Spanish and has great experience in the world," Jair Bolsonaro told the Brazilian daily.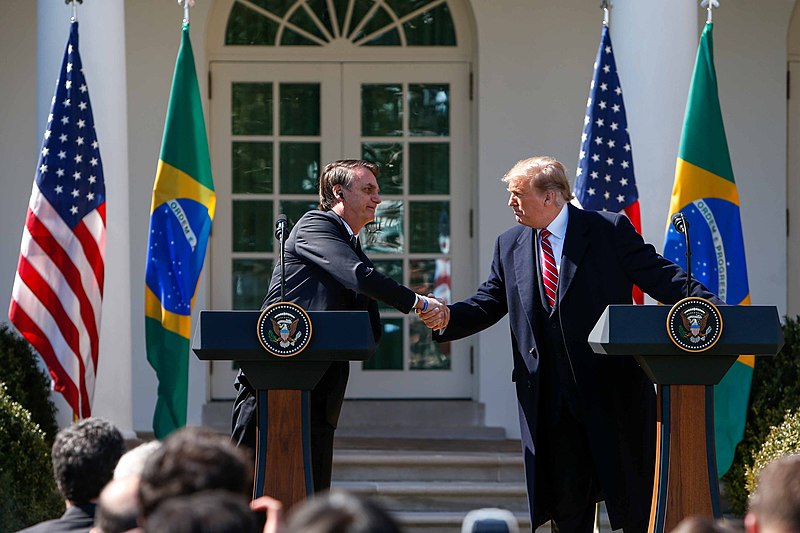 The Brazilian president has denied accusations of nepotism despite the fact that of his five children, three are acting politicians, one as Senator, one as Federal Deputy and one as Rio de Janeiro City Councillor, respectively.
The Supreme Court barred nepotism in 2008, and national legislation prohibits officials from hiring relatives for positions of trust in the public service. According to Reuters, however, an initial legal study by the president's office concluded that top-ranking appointments such as ambassador would not constitute as nepotism.
As for Jair Bolsonaro and Donald Trump, they have a close relationship. The two presidents have mutually praised each other's governance, and appointing Eduardo Bolsonaro as ambassador to the United States could solidify the relationship between the countries, especially on matters where the two presidents share similar stances, such as on climate change and a mutually beneficial trade agreement.